August 18
Helps to better health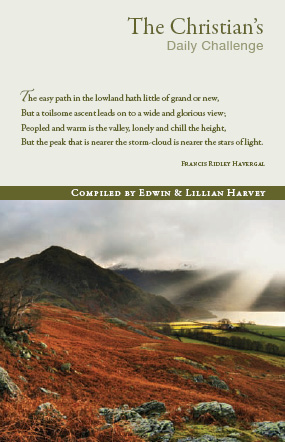 "But they that wait upon the Lord shall renew their strength; they shall mount up with wings as eagles; they shall run, and not be weary; and they shall walk, and not faint" (Isa. 40:31).
"My son, attend to my words; incline thine ear unto my sayings. Let them not depart from thine eyes; keep them in the midst of thine heart. For they are life unto those that find them, and health to all their flesh" (Prov. 4:20-22).
In the sickroom of the heart He may say little, but His radiant personality transforms it. Where He is, abounding life is, and that life is overflowing into us. Where He is there is perfect love, for in the depths of His being He is love. And to wait on God is not to ask for benefits; it is something anterior to that. It is to maintain the consciousness that He is here. That is how waiting upon God renews strength. The restorative medicine is Himself. "Whom have I in heaven but thee, and there is none upon earth that I desire beside thee." To maintain the consciousness through broken days that in Him we live and move and have our being is to escape as a bird out of the fowler's snare.
—G. H. Morrison.
Read full article...