February 17
The happiness of being nothing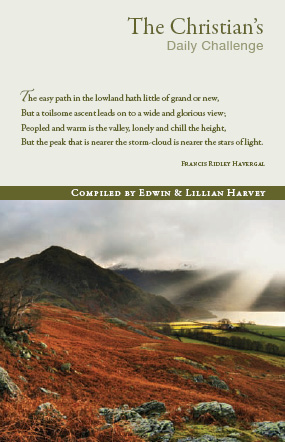 "Let us not be desirous of vain glory, provoking one another, envying one another" (Gal. 5:26).
"Let nothing be done through strife or vainglory; but in lowliness of mind let each esteem other better than themselves" (Phil. 2:3).
"The beginning of greatness is to be little;
The increase of greatness is to be less;
And the perfection of greatness is to be nothing."
—Quoted by D. L. Moody.
Some time since I took up a little book in which various persons related their own experiences. Two of them agreed in remarking that they were never happy until they ceased striving to be great men.
This remark struck me, as you know the most simple remark will strike us when Heaven pleases. It occurred to me at once that most of my sins and sufferings were occasioned by an unwillingness to be nothing which I am, and by consequent struggling to be something. I saw that if I could but cease struggling and consent to be anything or nothing, just as God pleases, I might be happy.
You will think it strange that I mention this as a new discovery. In one sense it was not new; I had known it for years. But I now saw it in a new light. My heart saw it and consented to it. And I am comparatively happy.
Read full article...