June 7
Fragrant giving of one's self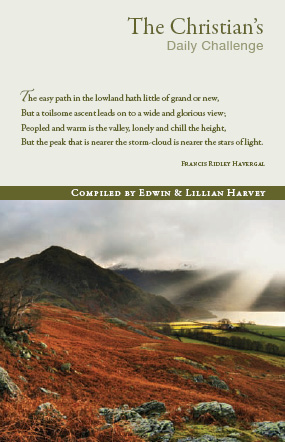 "Consecrate yourselves today to the Lord" (Exod. 32:29).
"And who then is willing to consecrate his service this day unto the Lord?" (1 Chron. 29:5).
Said David Brainerd, the missionary to the North American Indians: "Here I am, Lord, send me, send me to the ends of the earth; send me to the rough savage pagans of the wilderness; send me from all that is called comfort in earth, or earthly comfort, send me even to death itself, if it be in Thy service, and to promote Thy kingdom."
This consecration seems all the more sacred when we realize under what circumstances it was written. This young missionary had labored for several years among the Indians, sleeping on bits of straw, suffering extreme loneliness, eating foods almost unpalatable. His labors had been rewarded by a revival, and he had been blessed with the love and friendship of a godly daughter of Jonathan Edwards, so that he now thought a settled abode possible. But at this point, he received a doctor's verdict that the disease against which he had been battling for years would soon end his life. Mounting his horse, he once again faced the roving, uncertain life of the wilderness to spend his few remaining days for the souls he longed to save.
Read full article...