July 10
Let the Christ-mind be in you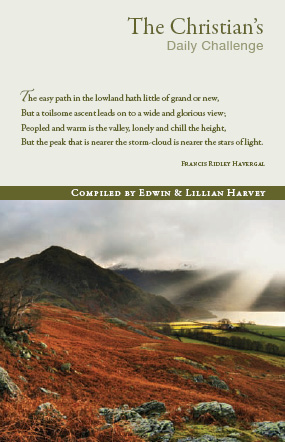 "For who hath known the mind of the Lord, that he may instruct him? But we have the mind of Christ" (1 Cor. 2:16).
"Let this mind be in you, which was also in Christ Jesus" (Phil. 2:5).
"Forasmuch then as Christ hath suffered for us in the flesh, arm yourselves likewise with the same mind: for he that hath suffered in the flesh hath ceased from sin" (1 Peter 4:1).
We can only enter into this mind of Christ when He has entered into us—when the mind of the old Adam, the covetous mind that wants to be something, has been condemned and deprived of its rights that it may be put to death on the Cross. Then we can receive the Son of God into the center of our lives so that we become partakers of His mind, the mind which denies itself and its own things, ever responding "Yea, Father" to the will of God, and stands at His disposal in life and action, in doing and letting be, in work and suffering.
Read full article...