June 25
God not overtaxed in filling us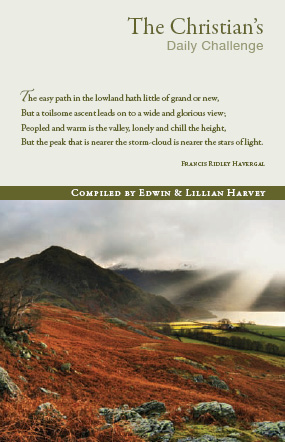 "Yet that valley shall be filled with water, that ye may drink, both ye, and your cattle, and your beasts. And this is but a light thing in the sight of the Lord" (2 Kings 3:17-18).
"He hath filled the hungry with good things; and the rich he hath sent empty away" (Luke 1:53).
When the Holy Ghost comes, our needs will be supplied, and the very remembrance of our sorrow and distress will leave us. So long as you are looking at the ditches and thinking of your desperate need, you are not filled with water. God wants so to fill you that He will even obliterate the remembrance of your sin and sorrow, and, as Job beautifully expressed it, you will remember your misery as waters that pass away.
Again, when the water came there was enough, not only for them to drink, but also for their cattle and their beasts; so when God fills your life with the Holy Spirit, the blessing overflows not only to every person around you, but the very beasts that serve you will be the better for your blessing. That truckman was not far astray when he said that his horse and his dog knew that he had been converted.
Read full article...