September 28
God prepares our work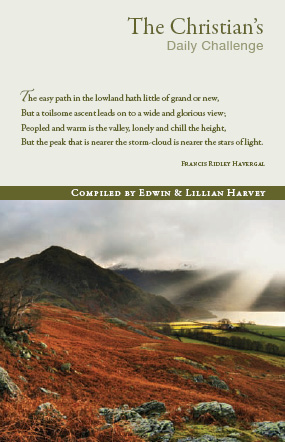 "For we are his workmanship, created in Christ Jesus unto good works, which God hath before ordained (prepared) that we should walk in them" (Eph. 2:10).
When the Lord says to us, "Prepare thy work," we have the comfort of recollecting that He has prepared our works for us (Eph. 2:10, marg.). Why not take the comfort of this as to any untried work which we may be "called unto"? That sphere did not make itself, neither did man form it into just what it is at his own will. It was God Who prepared it for the worker whom He intended for it, and if there is sufficient evidence that you are called to it, then you may rest assured that He "prepared" it and "ordained" it for you. Do not let us dwell only on our side of the preparation. Let us recollect that He Who prepares the workers prepares the works too, and prepares them for us to walk in, i.e., just to go on step by step; for that is "walking."
Read full article...