Holy courage
"Grant unto thy servants, that with all boldness they may speak thy word" (Acts 4:29).
"They spake the word of God with boldness" (Acts 4:31).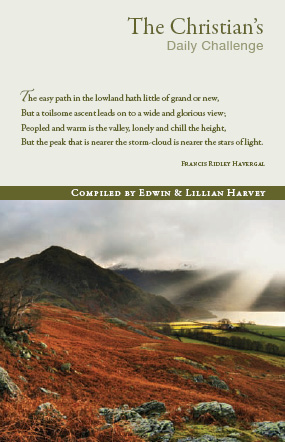 Holy courage is not the sort of courage that men are most acquainted with.  It is what the world most needs, and yet it is what the world and worldly churchmen most criticize and hate.
Holy courage is a perpetual burning condemnation of all manner of ungodliness.  It is not earth-born or brain-born; it is a celestial species of experience and character.  Holy courage blooms only on the stem of an utterly pure conscience; it blossoms only under the noonday of spiritual light in the soul.  He who has the consciousness of an unfettered holy courage in his inmost soul knows, to a good degree, what are the emotions of an angel.  But holy courage is enthroned in the heart, and will be enthroned there only when self has been utterly crucified.  Only when the love of fame and power and place and ease, only when mental pride and ecclesiastical pride, and all physical and spiritual impurity are washed away—only then does holy courage wrap the soul with unflinching bravery.
Read full article...