June 18
Christ's witnesses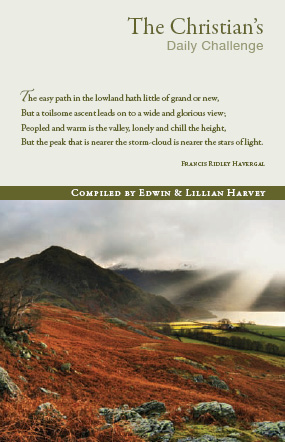 "Ye are my witnesses, saith the Lord" (Isa. 43:10).
"If thou shalt confess with thy mouth the Lord Jesus, and shalt believe in thine heart that God hath raised him from the dead, thou shalt be saved" (Rom. 10:9).
A witness is presumed to know something, to have something to tell, and he is considered bound by all the solemnities of an oath to divulge whatever he knows touching the pending case. Accordingly God has placed every renewed man on the witness-stand, and He now bids him proceed with the story of His redemption. It is also recorded, "With the heart man believeth unto righteousness; and with the mouth confession is made unto salvation." Faith, which works by love, or interests the affections in the exercise of confiding trust, brings the blessing of righteousness; but salvation, full and continuous, is made to hinge upon confession from the lips. Smothered fire goes out, but live coals, exposed and swept by the winds of Heaven, will glow and kindle into a flame. It is so with experimental grace.
Read full article...