January 18
The Bible stored in the heart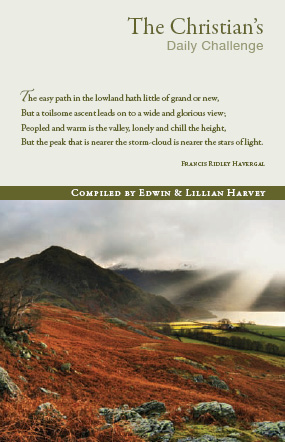 "Thy word have I hid in mine heart, that I might not sin against thee" (Psa. 119:11).
"Holding fast the faithful word" (Titus 1:9).
If you want to be strong Christian people, hide the Bible in your heart. When I was a boy the practice of good Christian folk was to read a daily chapter. I wonder if that is kept up. I gravely suspect it is not. There are, no doubt, a great many causes contributing to the comparative decay amongst professing Christians of Bible reading and Bible study.
And no religious literature, sermons, treatises, still less magazines and periodicals, will do for Christian men what the Bible will do for them. You make a tremendous mistake, for your own soul's sake, if your religious reading consists of what people have said and thought about Scripture, more than in the Scripture itself. Why should you dip your cans into the reservoir when you can take them up to where the spring comes gushing out of the hillside, pure and limpid and living?
Read full article...