August 5
The noblest course in sorrow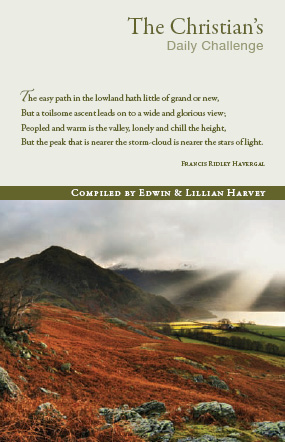 "Let us run with patience the race that is set before us" (Heb. 12:1).
"Strengthened with all might, according to his glorious power, unto all patience" (Col. 1:11).
To run with patience is a very difficult thing. Running is apt to suggest the absence of patience, the eagerness to reach the goal. We commonly associate patience with lying down. We think of it as the angel that guards the couch of the invalid. And, indeed, for those who are invalids patience is the angel-virtue, the crown of spiritual ripeness. Yet, I do not think the invalid's patience the hardest to achieve. There is a patience which I believe to be harder—the patience that can run. To lie down in the time of grief, to be quiet under the stroke of adverse fortune, implies a great strength. But I know of something that implies a strength greater still; it is the power to work under the stroke.
Read full article...