November 18
Our words echo down the years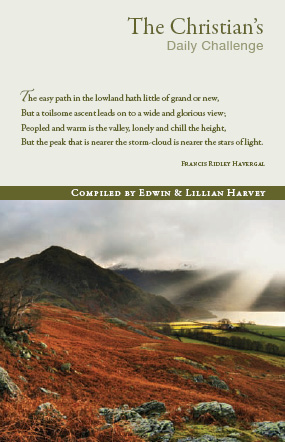 "Let the words of my mouth, and the meditation of my heart, be acceptable in thy sight, O Lord" (Psa. 19:14).
"How forcible are right words" (Job 6:25).
Peter Ainslie, in his little book, God and Me, says: "It has been estimated that the average person consumes about five hours a day in conversation, covering about fifteen octavo pages an hour, the space covered by the ordinary public speaker, from which it is concluded that the average person makes a weekly volume of 525 pages and, covering 70 years, the conversation of one person would make a library of 3,640 octavo volumes. What an immense individual library! What is it worth? If I have left on those pages thoughts of God, forgiveness, longsuffering, kindness, meekness, be my life ever so obscure and insignificant, I shall have made a library grander than the Congressional in Washington, or the British Museum in London, or the National in Paris, or the Imperial in St. Petersburg, or the Royal in Berlin."
Read full article...